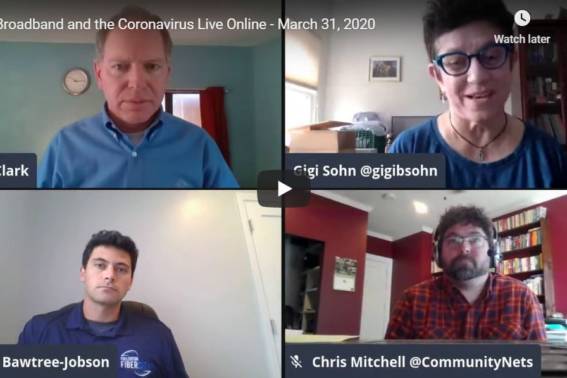 Broadband Breakfast Discussion Highlights Big Broadband Issues
Thursday, April 09, 2020
Our CEO Ben Bawtree Jobson was invited by Broadband Breakfast to speak live in a discussion on how the coronavirus has further highlighted the need for high-quality broadband, to enable us to continue to communicate.
Ben highlighted SiFi Networks' work with cities across the US to close the digital divide in building city wide fiber optic networks and discussed SiFi Networks' long-term development vision, to connect people and also lay the foundations for economic growth.
Alongside Ben spoke Gigi Sohn Georgetown Law Distinguished Fellow and Chris Mitchell, director of the Community Broadband Networks Initiative.
The discussion raised many key facts and observations of our time, with Gigi siting "It's really unfortunate that it has taken a national emergency, a worldwide pandemic, for people to realize how many people don't have access to broadband internet."
Gigi also recalled that when she testified before Congress just months ago, she shared census data that 141 million Americans do not have internet access and she urged mobile and fixed internet service providers to remove data caps immediately.
Chris Mitchell also spoke and highlighted the dissonance between government urging Americans to stay home but making broadband accessible outside of the home. He also highlighted a significant floor in the Rural Digital Opportunity Fund in that the speed being funded, 25/3 megabits per second, would soon be outdated.
"I was delighted to be asked by Broadband Breakfast to speak on the show alongside Gigi and Chris who are great ambassadors for broadband poverty" commented Ben.
"The coronavirus has highlighted what we already knew about US connectivity. High quality broadband is a necessity, it is a utility that everyone should have in 2020 just like running water and electricity". Ben added.
You can see the full show here.