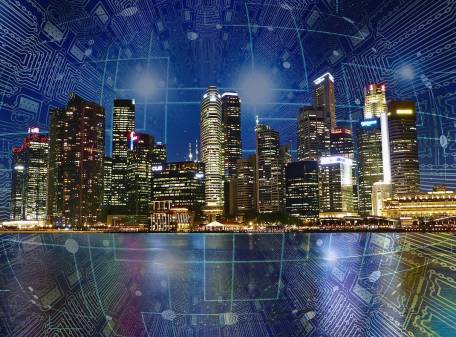 Network scalability — the benefits of an open access model
Monday, December 13, 2021
Scalability is the ability of a network to cope with increasing workloads in a cost-effective and sustainable way, by expanding the network's bandwidth capacity and supporting its physical expansion to new development areas. In today's increasingly digitalized world, scalability is essential to future-proof cities and make sure they can handle the requirements of remote work, e-learning, Industry 4.0 and smart city applications. So, how do FiberCities® support this ever-growing demand for bandwidth?
There are infinite reasons why a municipality might need to scale up networks — business might be booming, needing to accommodate large numbers of IoT-connected devices; medical centers might need more connectivity to respond to emergency situations; new development areas may need to cope with residents' demands for remote work, e-learning and entertainment; the city itself may be planning to implement next-generation services such as AI-based traffic monitoring or smart lighting. Regardless of the reason, the network must be able to cope.
Unfortunately, in a traditional model where internet service providers (ISPs) both own and operate the network, as is typical in most US cities, the network architecture is not normally built to meet these expectations. To get the highest possible ROI in the shortest possible time, retail ISPs will build the network to satisfy the demands of the types of customers they want to serve, usually businesses and residents in higher-income areas. The result is that when networks need to be scaled up to serve different applications or areas than originally planned, this can cause some complications.
On the other hand, when planning which customers we want to serve in our FiberCities®, at SiFi Networks we have a simple answer — all customers.
As an independent operator, we are far more interested in designing networks to enable a huge variety of different applications from day one. We believe that cities need only one network to support the proliferation of services for the betterment of the community. The network will benefit from the pooling of all these revenue sources to bring down prices and make future applications more sustainable. This will create more efficiency and promote economies of scale, leading to further prosperity.
How is this achieved?
Rather than relying on a typical ring topology, where all nodes depend on one central location, the network architecture of a FiberCity® is built as a mesh. This structure allows for very high speed, low latency and true diversity, meaning that there is no single point of failure. This is due to the presence of several cabinets that are interconnected and diversely fed to different aggregation points on the network. As well as making the network more resilient, this structure makes it easier to expand the network outwards or inwards as new needs arise.
A meshed architecture also allows for more flexibility in terms of points of access — because we build on both sides of the street, in every single street of a FiberCity®, at any point along the network there is a viable extension to make services available in that areas for residents, businesses and public services alike. If, for example, a new bus stop requires connectivity to provide information on transit routes in real time, this can be easily and quickly achieved. The same is true for new public services in police stations, fire departments, hospitals and other safety-critical infrastructures, where the reliability of the connection is paramount.
Future-proof
Cities normally have a five-year expansion plan, which SiFi Networks takes into consideration to ensure that scaling up the network will be as easy as possible. However, the network infrastructure of FiberCities®, in all probability, will be able to support the implementation of a variety of applications that we can't even imagine today, future-proofing cities for decades to come, not just for five years.
As for SiFi Networks, our expansion plans are quite ambitious — in the next five years we plan to serve between four to six million addresses, and to try and deliver incredibly low cost or even free internet to deserving households that currently have no access to a viable subscription plan. This is line with our policy of tackling the digital divide and providing fast, reliable connectivity for everyone, no one excluded.
So, how can you contribute?
Like and share this article to spark a conversation on the benefits of open access fiber networks
Read more about our FiberCities® on SiFi Networks' website
Download our free e-book Broadband – The Second American Revolution to discover how telecommunications monopolies were formed and how the open access model can dismantle them
Finally, follow SiFi Networks here on LinkedIn to stay updated on our work to democratise broadband access in the US.