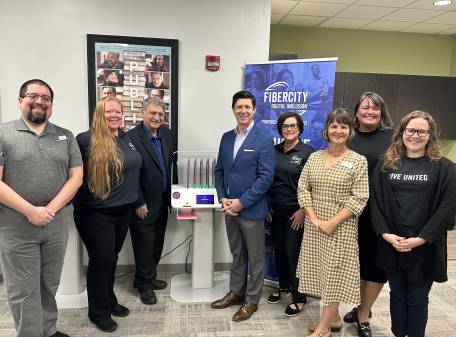 SIFI NETWORKS LAUNCHES DIGITAL INCLUSION PROGRAM IN PARTNERSHIP WITH THE KENOSHA PUBLIC LIBRARY & THE CITY OF KENOSHA
Tuesday, September 26, 2023
Kenosha FiberCity® Supports City of Kenosha's Digital Literacy Program with Programming and Donation of Digital Curiosity Station for Young Library Visitors
Kenosha, WI – (Tuesday September 26, 2023) At a press conference this morning, Shawn Parker, VP, Government Affairs, SiFi Networks, announced, in partnership with John Antaramian, Mayor, City of Kenosha, and Barbara Brattin, Director, Kenosha Public Library, the launch of the FiberCity® Digital Inclusion Program. SiFi Networks aims to bridge the digital divide in Kenosha by significantly supporting the city's digital literacy program with educational sponsorships and the donation of a Digital Curiosity Station with 12 new computer tablets and a mobile charging station for young library visitors.
Shawn Parker, VP of Government Affairs at SiFi Networks, commented: "Closing the digital divide is at the forefront of SiFi Networks' FiberCities®. We began with a commitment to build citywide, introduced the FiberCity® Aid program, and now we're launching our Digital Inclusion Program. This new initiative involves partnerships with libraries and nonprofits to help provide computer skills, technology access, and valuable training for better job opportunities. Kenosha is the first FiberCity® to benefit from this new program, which will be tailored to the specific needs of each community."
Kenosha Mayor John Antaramian said the city appreciates its partnership with SiFi Networks. "Here is one more item that SiFi Networks is doing to help make Kenosha a city of the future. Kenosha residents and businesses will benefit greatly from SiFi Networks' sponsorship of our Kenosha Digital Citizenship Course, with a new focus on cybersecurity, and the Kenosha FiberCity® 101 video, which explains the network and all the benefits of a city-wide highspeed fiber network," he said.
Barbara Brattin, Director of the Kenosha Public Library, added: "SiFi Networks' generous support for our digital literacy program, exemplified by their donation of the digital tablets, will have a profound impact on our youth, readying them for the emerging tech job market in Kenosha. This partnership plays a pivotal role in our mission to empower and educate our community, beginning with young children and reaching out to teenagers, by instilling crucial technology skills that will pave the way to well-paying job opportunities, all powered by high-speed fiber connections."
SiFi Networks' Digital Inclusion Program is built on three core pillars: Educate, Enable, and Excite. In collaboration with public libraries and community organizations, the program tailors its support to meet the unique needs of each community. It fosters access to the city-wide fiber network through device donations and tailored educational programs designed to enthuse people about the FiberCity® network, its benefits, job opportunities, and connectivity.
Open Access allows fiber infrastructure to be shared by multiple service providers, whether that be Internet, wireless, or other services, thereby delivering the fastest speeds at the most competitive prices to the consumer. Like all SiFi Networks fiber builds in the U.S., the Kenosha FiberCity® project is constructed at no cost or risk to taxpayers.
Photo: Robert Nunez, Kenosha Public Library; Amanda Bloomer, SiFi Networks; Mayor John Antaramian; Shawn Parker, SiFi Networks; Deondri Manalli, SiFi Networks; Barbara Brattin, Kenosha Public Library; Brandi Cummings, Kenosha Public Library and Marissa Markowski, United Way of Kenosha County