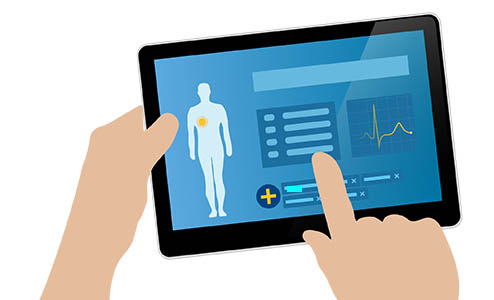 Healthcare in a FiberCity™
Monday, April 27, 2020
As healthcare organizations try to reduce costs during a time of increased patient loads and a shortfall of physicians, which is challenged with ever changing reimbursement models and financial penalties for hospitals with excess patient readmits, new more efficient processes and technologies are being considered. These new advancements however need the support of a reliable infrastructure such as our FiberCity™ network.
A FiberCity™ network would enable healthcare clinicians to remotely interact with individuals and caregivers on a 24×7 basis at a patient's home or senior living center, via a gigabit-speed connection, which is a highly efficient method in providing immediate or scheduled health care diagnosis to patients.
Remote Patient Monitoring via the FiberCity™ network is convenient for the patient, as they can establish a direct connection to the clinician from their personal device or medical equipment, without accessing the internet, which is a cost-efficient and flexible solution for the clinician in providing real-time video consultation and assessing vital sign monitoring and reporting.
Furthermore, RPM removes the complications with unnecessary travel and makes better use of the associated resources needed to manage the patient, including freeing up clinical beds, given patient monitoring can occur between any healthcare emergency response center and a patient's connected premise.
As healthcare institutions continue to experience new waves of viruses and diseases, which can impose tremendous pressure on healthcare resources within a very short period, having the capability to connect any non-healthcare building to a healthcare facility via a secure, citywide fiber optic network is imperative in a city's healthcare disaster plan.
Medical equipment can also be installed within a patient's premise, where necessary and over time, this method of healthcare supports clinicians in collecting valuable data to assist with future diagnosis, planning and emergency response conditions.
With advancements in medicine, data and how clinicians support patients, technology within the digital health market will continue to grow at an increased rate, a FiberCity™ network will provide a City with the proactive ability to take advantage of many of these E-Health benefits.