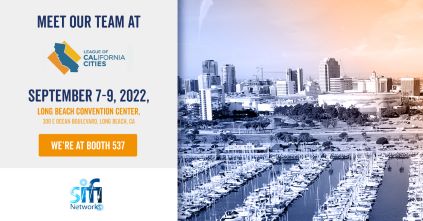 SiFi Networks to Participate at League of California Cities Conference & Expo
Tuesday, September 06, 2022
The SiFi Networks' team will be in Long Beach, CA September 7th -9th, exhibiting at the League of California Cities Annual Conference and Expo.
Each year the conference brings together California leaders ranging from council members, mayors, city clerks, city attorneys and more. The goal is to educate and enlighten those in attendance with the latest in information, best practices and technology to help them serve their communities best.
In the expo portion of the event, Scott Bradshaw, President and Geoff Spickler, VP of Community Relations, will be exhibiting at booth #537.
"We are excited to be back at the conference again this year, to raise awareness of our open access, citywide, 10 gig networks. With 19 Californian cities now signed up to become a FiberCity® we are really looking forward to raising awareness of our network to others" commented Scott Bradshaw, President SiFi Networks.